Hanami is when the cherry trees in Japan blossom. People go to the parks and have large picnics while drinking beer and sake. The cherry trees do not blossom at the same time everywhere. The season begins in Kyushu around early-mid March and things progress up Japan. In Shonai, the blossoms occured the 3rd week of April, which was also Kim's birthday. It was fun.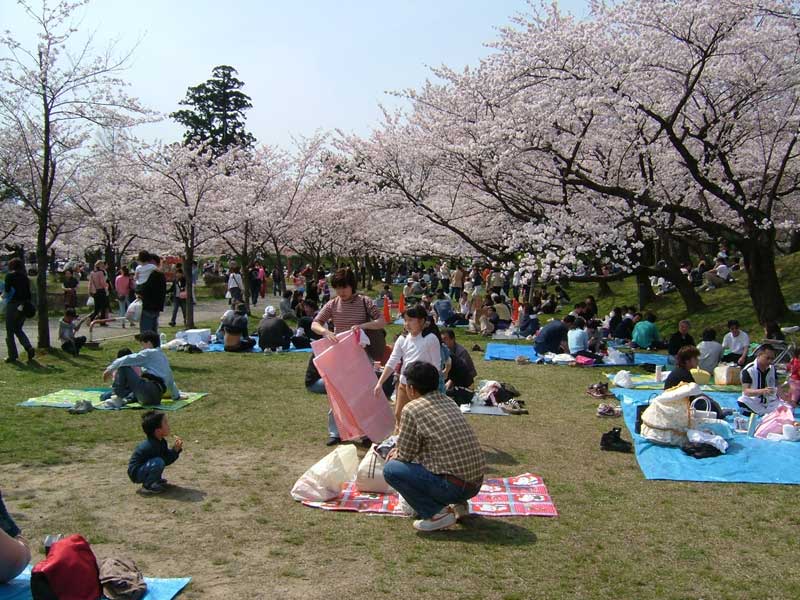 Our Japanese class had a hanami party early in the week. This is a picture of the park with all of the cherry trees in blossom.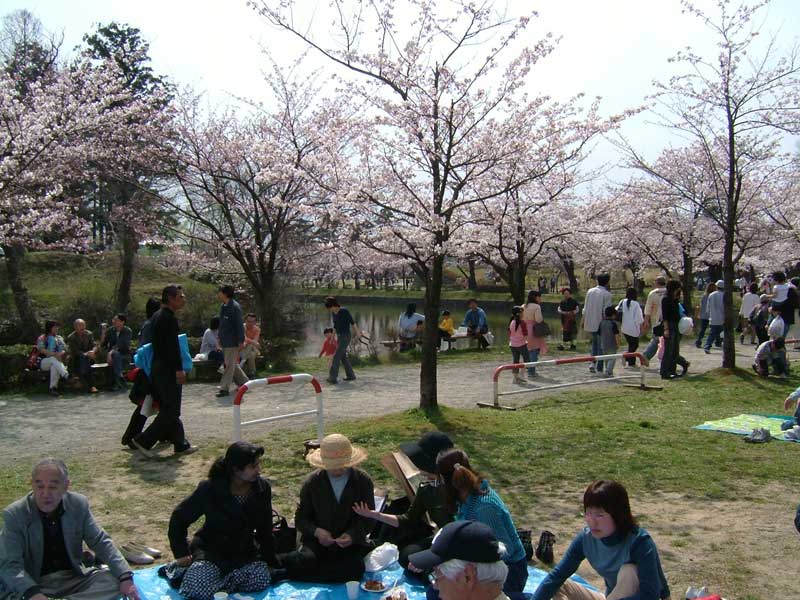 There are two moats at the park, because the site of the park is a razed castle. In the background you can see the inner moat. In the foreground are some teachers and fellow Japanese language students.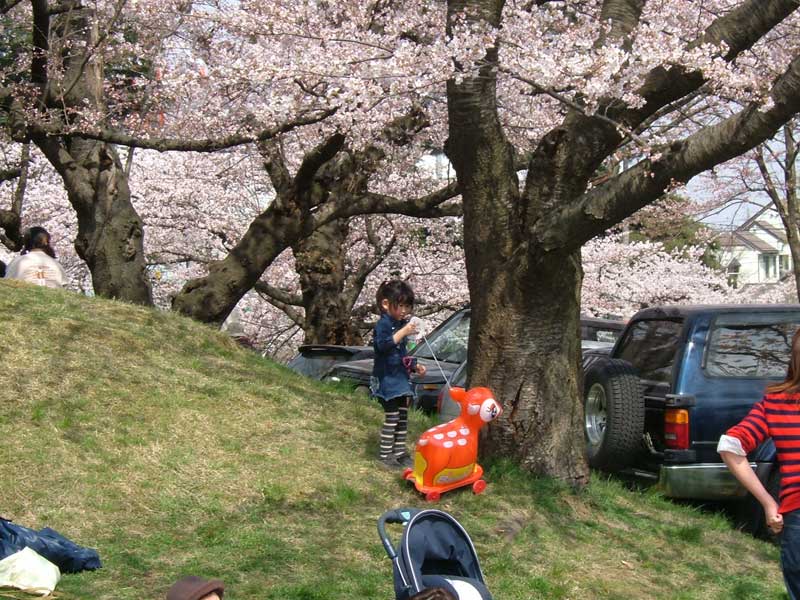 There is a carnival like atmosphere and travelling food stalls come. Here a little girl plays with a common toy under the cherry tree.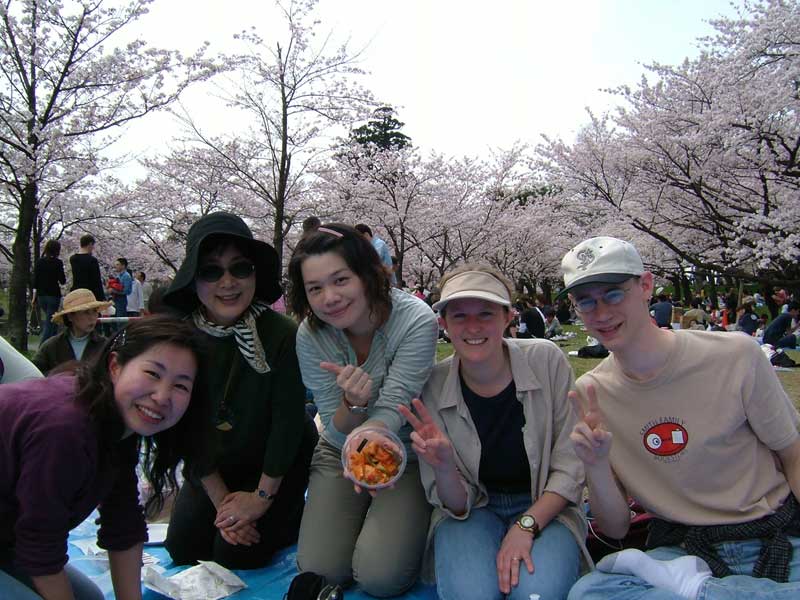 Here is peter and Kim with some of the people from the International Center. Furthest to the left is Sachi-san, a wonderful person who speaks English fluently and helps out all of the English speakers at the International Center. The food was really good at this picnic because there were people from many different countries. Kim brought rice Krispy bars which resulted in a lot of "interesting! sweet!." They weren't exactly a hit.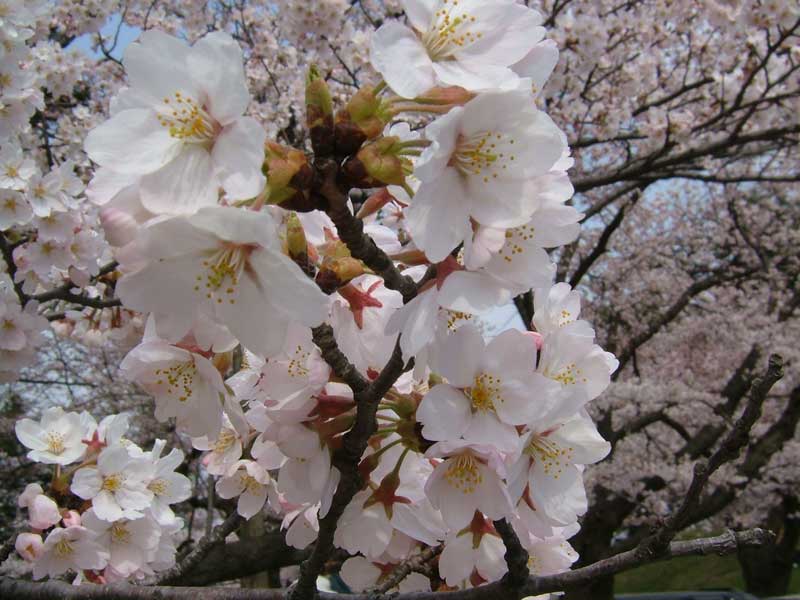 Here are some cherry blossoms up close. Are they worth 5 months of anticipation? Maybe not, but it is really fun!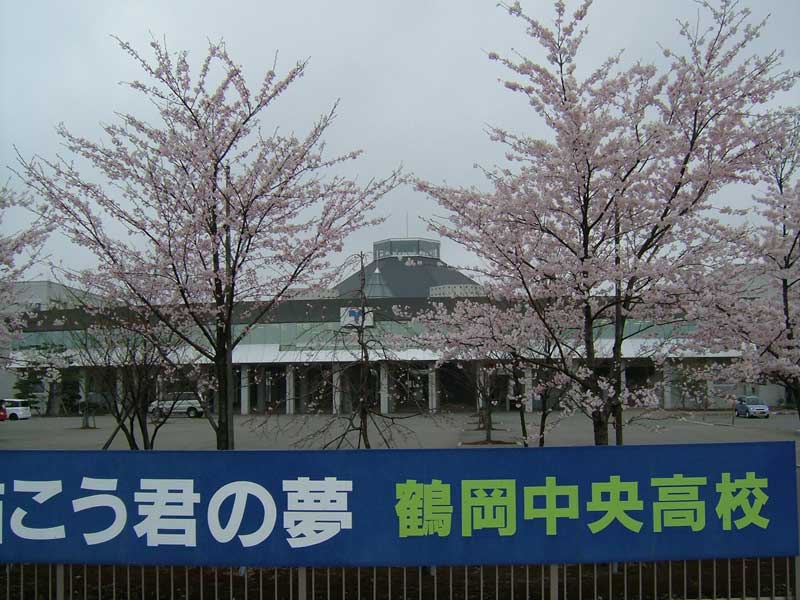 This picture shows Peter's school, Tsuruoka Chuou koukou, with their few blossoming trees.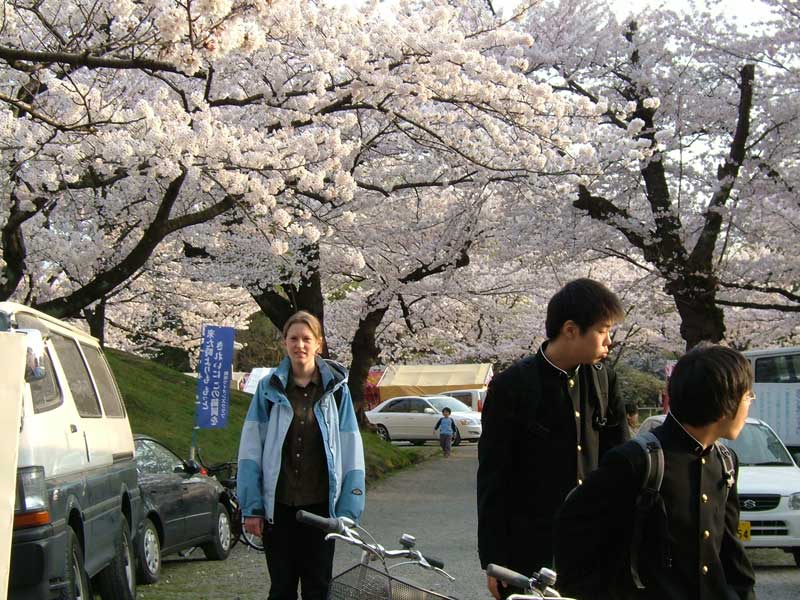 Here is Kim with the cherry trees. The two boys on the right are students from her super-academic high school, Tsuruoka South. Their uniform is supposed to replicate the traditional Japanese military uniform and is fairly conservative and serious.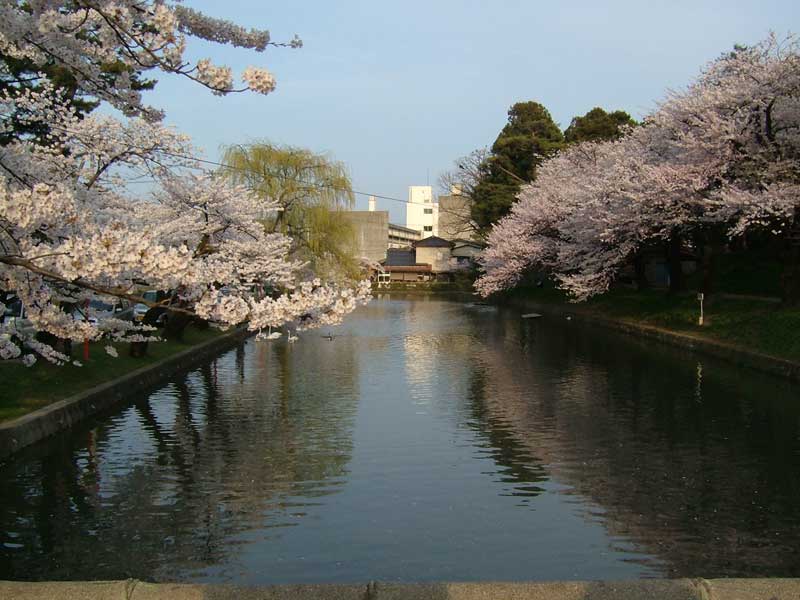 This is the outer moat to the park and it is lined with cherry trees. There are several nice swans that live there all year round.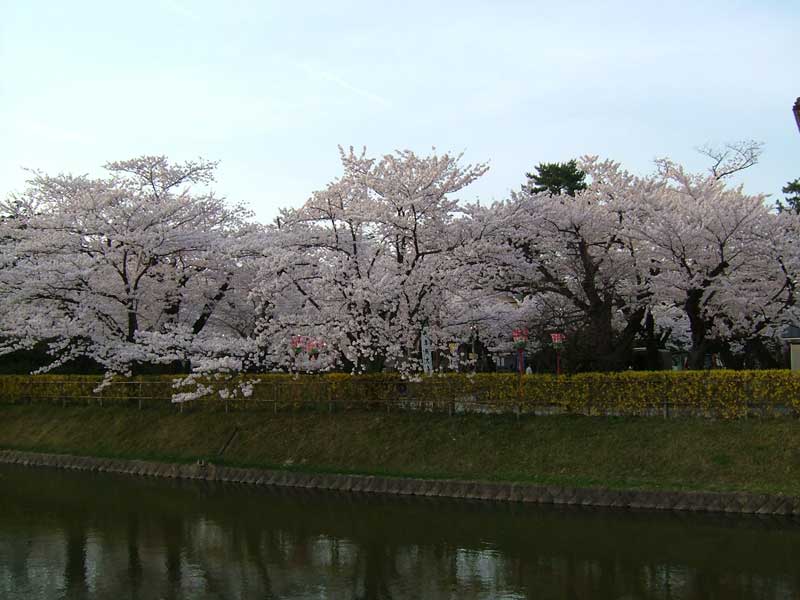 This shows the outer moat again with the blossoms.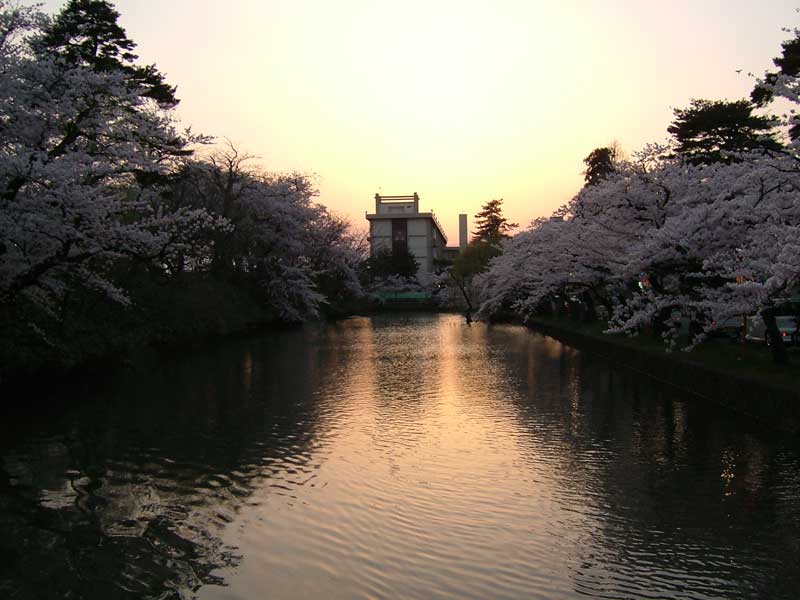 Here is the outer moat at dusk. We decided to have hanami for dinner...not the flowers but to sample all of the Japanese junk food available. Peter tried okinomiyaki, a batter with cabbage and vegetables fried into it. It is eaten with kimchi or other spicy sauces. Kim tried a banana concoction, sweet potato fries, and some candy. There were fewer options for Kim. It wasn't a healthy dinner, but it was interesting.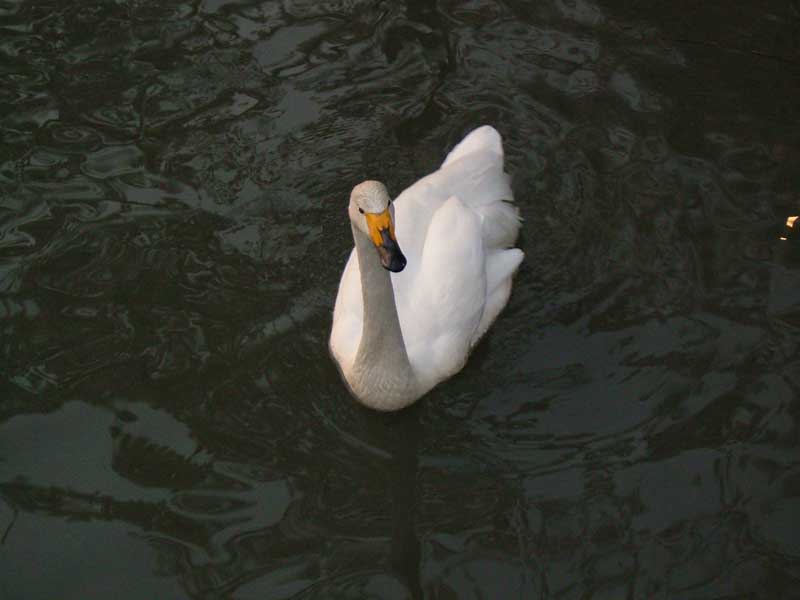 A particularly friendly swan. They are fed often and so are happy and fat!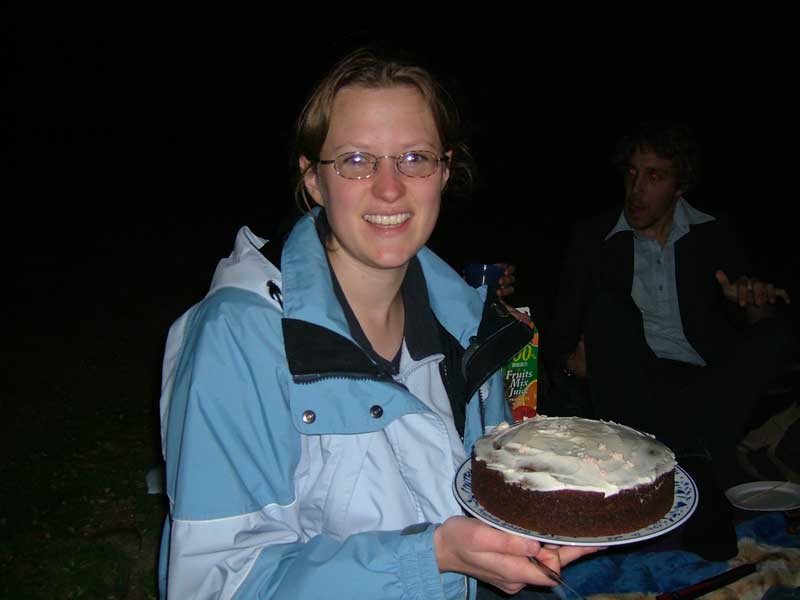 For Kim's birthday, we headed down to the park and had a night time hanami party at the end of the week. Jay, a fellow Tsuruokite, even made an amazing wheat-free cake for Kim. She is proudly holding the cake here! Thanks Jay! James can be seen in the background.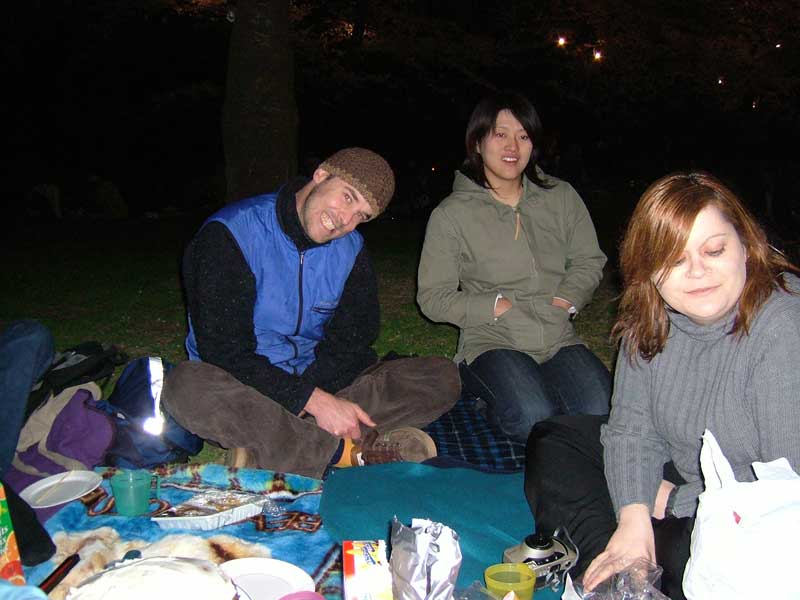 Here is Scott, Chisato's friend, and Monique all at Kim's birthday nighttime hanami picnic party!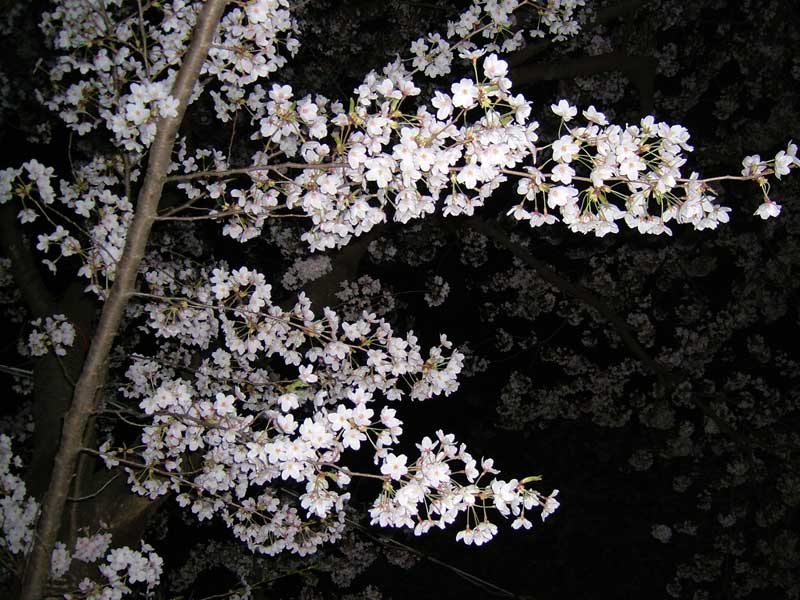 Here are some blossoms at night. Lights were strung from tree to tree across the park to light up the blossoms at night. They looked pretty if a bit unnatural with all the wires and bulbs.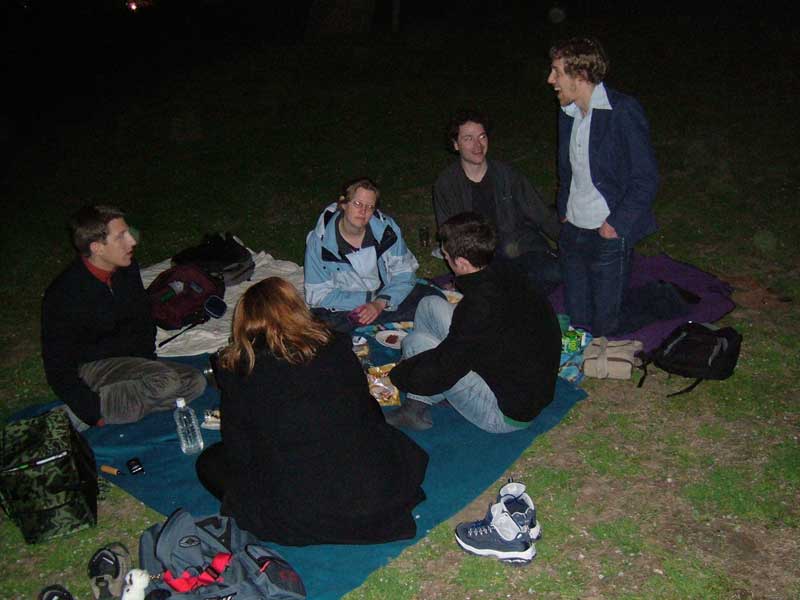 Here are some other participants at Kim's birthday. At this point in time, some people had left, as it was getting a bit cold out. From left: Jay, Monique, Kim, Ed, Andy, and James.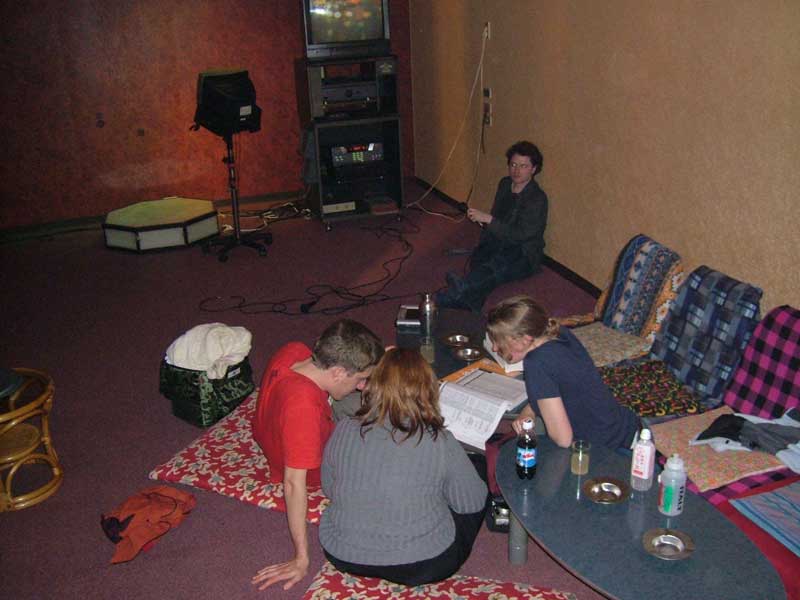 After hanami in the park, we went for the traditional late night activity in Japan: karaoke. In Japan, karaoke places consist of several rooms of different sizes each with a karaoke system and lights. One rents the room by the hour or number of people. We managed to get a really large room for only 6 people. It was fun!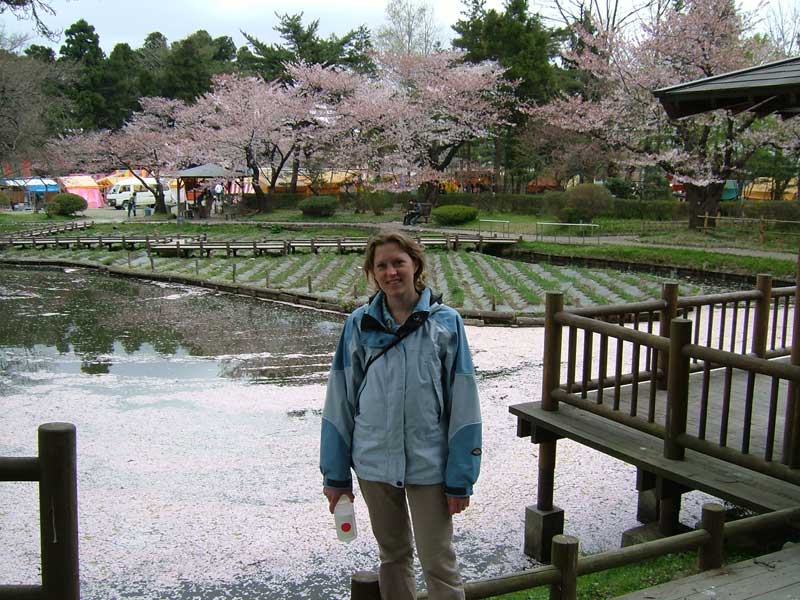 Finally, the last vestiges of hanami came two days later. We went to the park for a wedding procession and took this last picture of Kim and the inner moat area with the blossoms on the water.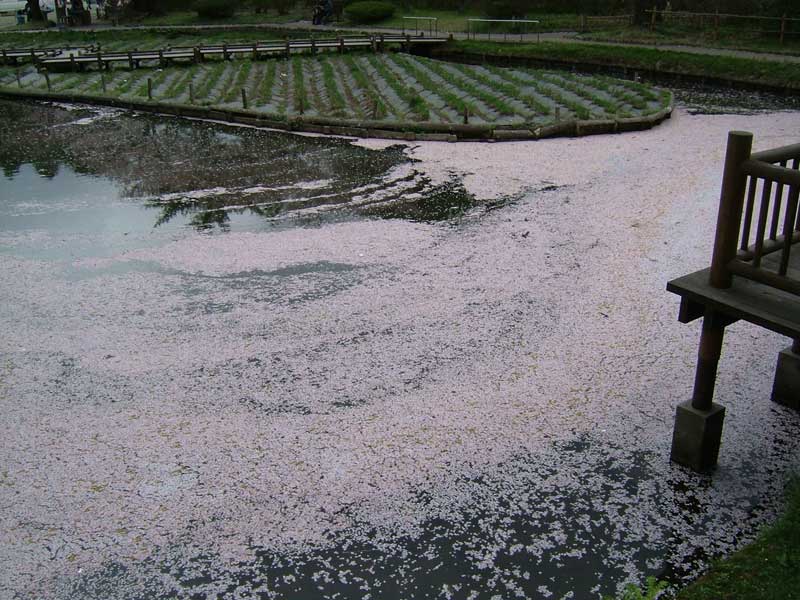 Here is a close up of the blossoms in the water. Hanami is really pretty but given that the trees that look best are non-fruit bearing, it does seem a little odd. There is a second set of trees that actually bear cherries and Yamagata is famous for its cherries. However, despite living in the land of cherries, they are really expensive. The cheapest so far has been about $5 U.S. for 15 cherries or so. Some of this may have to do with the individual attention each tree and set of cherries is given so they all look perfect (no blemishes here!).